Social Media Marketing
Synchronize all your social media communications in one easy to use Control Panel. Tracking your campaign and measuring the response has never been easier.
Key Benefits
Create extraordinary landing pages in minutes
Share content on networks such as YouTube, Vimeo, Flickr, Facebook, Google+, Pinterest and generate your web presence
Build SEO optimized landing pages and connect more secondary domains to improve your reach
Link your social and content sites account and start sharing from one simple and intuitive console
Manage news and post to your site, social networks and article directories
Design and share coupons and promotions
Send newsletters and promote through email marketing campaigns
Manage SMS lists and promote through text messages campaigns
Improve your SEO ranking through content marketing and keyword on-page optimization
Embed calls to action on your pages and start expanding your leads generation capabilities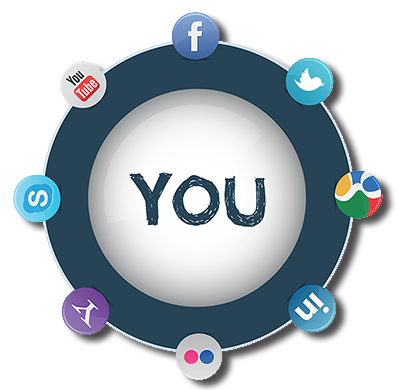 The WebLasso platform helps smart phones determine their approximate location or context. With the help of a WebLasso iBeacon, a smartphone's software can approximately find its relative location to an iBeacon in a store. WebLasso can help a phone show notifications of items nearby that are on sale, and it can enable payments at the point of sale (POS) where customers don't need to remove their wallets or cards to make payments. iBeacon technology works using the Bluetooth Low Energy (BLE) technology, also known as Bluetooth Smart.
WebLasso features a range of connected media custom designed to your brand. Create Smartcards, stickers, posters and more; then using QR Codes link them to a custom WebLasso landing page or your own digital content. Then from the WebLasso dashboard you can update, monitor and manage your content in real time.
By working directly with DPI Direct, marketers can quickly plan and implement an entire marketing campaign. DPI Direct can handle integrations of  all mobile apps, printed collateral,  personal URLs (PURLs) , HTML landing pages, QR and Bar coded coupons, banners, banner stands, newsletters, digital signage, email blasts, SMS, and ecommerce. All this is done in house and by the same team that has all your approved digital assets and that understands your brand. A true one stop solution.
WebLasso Platform can:
Attract customers, and increase the possibility of shopping
Increase the interaction with the customer through unique mobile apps, with personalized service notifications, promotions, coupons, and high value-added functions
Influence purchases through targeted promotions and campaigns for customer retention
Describe paintings, art objects, to give more details to the museum or exhibition visitors, improving their experience
Allow interaction with visitors in a museum, creating pathways of augmented reality
Advertise and offer services to customers (discount, coupons, tickets, etc.)
Targeted content for your users:
The WebLasso mobile marketing platform helps the retail world to interact with their customers, offering targeted purchases.
Museums and shops:
Through mobile devices, it is possible to engage and enhance the user experience, both for the world of retail and for museum environments, in order to let them enjoy a unique experience.