LightJet Printing
Our Two LightJet 430's Offer Superior Output Quality for Many Applications:
Photographic Prints up to 50″ x 120″
Backlit and reflective prints
Fast turnaround projects, print speeds up to 485 sqft/hour
Projects requiring consistent color matching over multiple runs
Perfect for Acrylic Facemounted Prints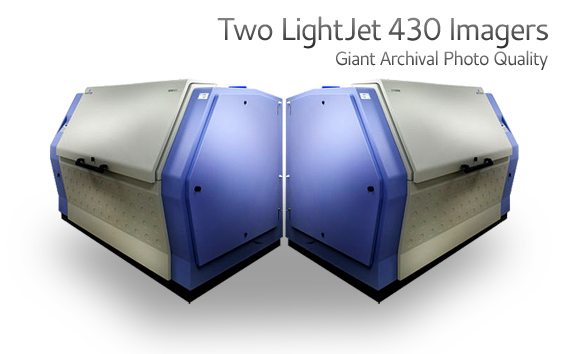 True Continuous Tone Photographic Imaging

Most award-winning large format photo laser printer ever
DPI Direct is the only shop in San Diego with two LightJet 430s, the most award-winning large format photo laser printer ever. LightJet 430s have a 36-bit color space, capable of producing 68 billion colors. This ensures optimum color with perfect fidelity. In comparison, other photo printers are limited to 24 bits or 16.7 million colors. Image anything you create in stunning detail with this industry-leading equipment.
"LightJet prints are true photographs on actual photographic paper."
The LightJet printing process uses lasers to expose color in paper. This allows us to create images in the RGB spectrum, which are much more vivid than printing's usual CMYK. Also, there is no ink and this, no dots or worry about dot gain.
Archival quality: Normal exposure to indoor light sources should not cause any significant fading for sixty or more years. Direct sunlight may shorten life. Not recommended for long term outdoor use.
The LightJet 430 can print true continuous tone images up to 50″ by 120″ with a hardware optical resolution of 300 dpi. For high-volume applications resolution can be lowered to 200 dpi (via dedicated set of large aperture optics), while doubling the output. A dedicated on-board interpolation engine allows for smooth scaling of low-res images for optimal printing results. Because of its generous color gamut, art to be printed on the LightJet 430 is best represented using AdobeRGB1998 color space.