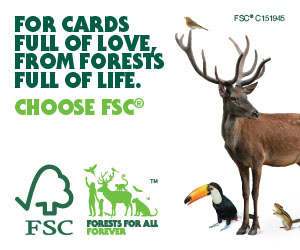 DPI Direct is proud to be certified with the Forest Stewardship Council® (FSC®) Chain of Custody (CoC). This means our paper is from sources that follow strict guidelines to protect forests around the world and those who depend on them.
About FSC
FSC is the most rigorous international standard for responsible forestry. FSC certified forests conserve biological diversity, water resources and crucial ecosystems. The FSC standard also upholds worker rights and supports economic prosperity in surrounding communities. The FSC Chain of Custody certification ensures that certified wood products are tracked from forest to final product (and if applicable, that qualified recycled materials are used), adding legitimacy to the FSC claim throughout the supply chain.
Use the FSC® Label on Your Print
To print the FSC® label on your product, contact your account manager or customer service representative so that we can guide you through the process.
FSC® certifies that paper in the Chain of Custody demonstrates:
Compliance with all applicable laws, as well as the FSC® principles

Long-term tenure and land-use rights have been legally defined

Indigenous people's rights of land use and ownership are upheld

Forest workers' and communities' social and economic wellbeing is maintained or enhanced

Economic, social and environmental benefits from the forest are maintained

The forest ecosystem and its biodiversity, resources and landscape are maintained or restored

A forest management plan has been established, documented, implemented and monitored

Monitoring and assessment systems are in place to demonstrate progress towards management objectives

Attributes of high conservation value forests are maintained or enhanced

Plantations are planned and managed according to FSC® Principles