Incredible Resolution for Retail and POP Displays
The Screen TruePress Jet2500UV Is Ideal For:
Small Items Which, in the Past, Could not be Printed Digitally
Large Outdoor Signage
Printing on Glass
POS and POP Displays, indoor and outdoor advertising and exhibition graphics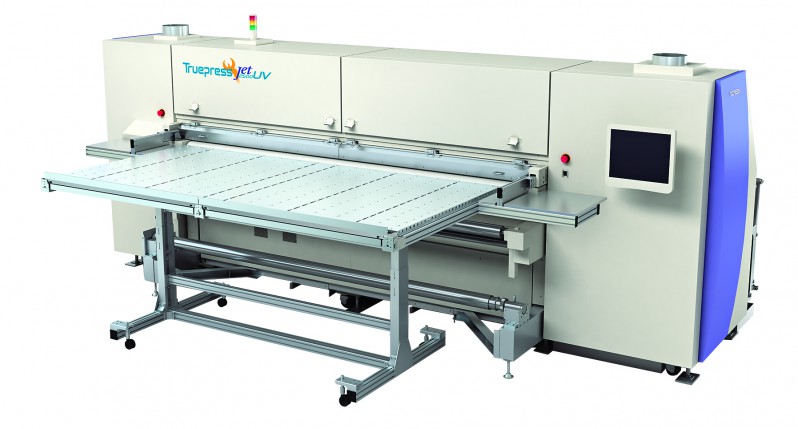 This amazing machine can print on ANYTHING, as long as it's under 98.4″ wide and less than two inches thick. Featuring UV-curable inks, The Screen Truepress Jet2500UV produces output that is detailed, vibrant and very durable. Its advanced ink formulation has properties that allow inks to stick to any surface, including plexiglass or ceramics and, once exposed to UV light, are very stable and will not fade. Due to these qualities and the unit's blistering speed the Truepress Jet2500UV is mostly used for printing store and outdoor signage, however artists are finding many diverse applications for this remarkable printer – we have printed on everything from denim to leather to neoprene.
The Truepress Jet2500UV delivers 1500 dpi resolution using a true grayscale variable pattern with six to forty-two picoliter drops. This printer has a wide range of quality settings – making it perfect for great many applications in any size and quality. It has PRE and POST white ink and can print multi-layered prints. The multi-layer option enables the Truepress Jet2500UV to print up to seven image layers in one productive pass without feeding the media a second time through the printer. Multiple layers improve the performance of double-sided window stickers and day-and-night backlit displays. They also create various special effects, such as the appearance of embossed graphics.
In the case of double-sided window stickers, the Truepress Jet2500UV prints the image layer, then white, then black, then white again before the final image layer is printed. Sophisticated images can be viewed from both sides on transparent material. The image and text appear as they normally do, but each side of the display can contain unique images in order to present different messages when viewed from inside and outside the window.
Printing white between two layers of the same image also enhances the day-and-night effect of backlit displays. The image remains vibrant when the display light is off and has extra density when illuminated. Furthermore, applying a layer of white ink below the image layer provides a three-dimension effect, like that of relief.