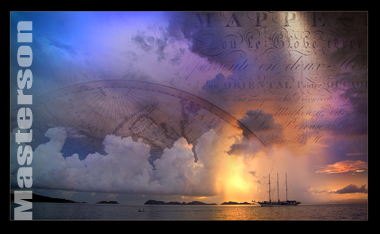 What have you been doing with ENDURA Metallic Paper?
MASTERSON: I have a ranch up in Julian, California. It is beautiful, and I always have such great scenes up there. I always wanted to bring up an 8 x 10 camera and start capturing images and enlarging them very, very large. I came across the [KODAK PROFESSIONAL DCS Pro 14n Digital] Camera that is 14 megapixels, and I started to take some shots that I would normally have wanted to do with an 8 x 10. I started blowing them up just to see how the resolution was, and they were coming out fantastically sharp.
When I went to a lab in San Diego, DPI Direct, they showed me the ENDURA Metallic Paper and told me what the longevity* of it was. I was truly impressed. We ran some tests, and ENDURA [Metallic Paper] and digital is just a marriage made in heaven. So we started to blow them up, putting them on board and framing them. I have produced probably 50 prints right now that are exhibition quality. I did an exhibition with a restaurant here sponsored in part by Korbel and Maserati-Ferrari. It was to benefit the Susan G. Komen Breast Cancer Foundation. We auctioned off probably three prints that went for close to $22,000 total. Then on top of that I sold close to $38,000 in prints.
Did working with ENDURA Metallic Paper inspire you to start selling art prints?
MASTERSON: Well, first of all, the camera gave me the ability to enlarge high-quality images on glossy stock. And the ENDURA Metallic Paper took it from a photo print to more of a fine art print.
Tell us about an image in particular that blew you away.
MASTERSON: "Phantom," photo of tissue paper that was crumpled and then laid out on a light table. On the computer, I inverted the image into a negative. What I have found is that with the ENDURA Metallic Paper, the blacks are really saturated. I mean, they go black, almost like ENDURA Metallic Paper absorbs light rather than reflects it, so I get very rich blacks. When I go to the highlights and mid tones, that paper, with its metallic sources, causes the image to almost dance on the surface. That is really impressive. When you are looking at it on the screen here, flat on your computer, it does'nt even do it justice.
How do the prints stand up to being mounted and displayed?
MASTERSON: Actually, when I sell the ENDURA Metallic prints, I use the fact that the image has 200 years of life* as a marketing hook. When someone sees the print, I tell them it will last longer than the Declaration of Independence* without the care.
I will tell you what else, I had a big display in a museum and a light that was hanging over a print to illuminate it fell and hit the print, and it did nothing to it; didn't even put a scratch on the print. I mount these and put them in frames, but I do not put them under glass because the gloss is so high. Though ENDURA [Metallic Paper] can scratch, I found that it is durable.
So what's your next project with ENDURA Metallic Paper?
MASTERSON: One of the other things that I am doing is designing a coffee table book of these images. It is going to be 11″ x 17″ in size and we have some layouts that we are working with now. It is all Kodak stuff. I'm only thinking about printing 1,000 of these. Also, I sent some pictures away to the Metropolitan Museum of Art, and they are under review. So we may get some work hanging in there, which would be great.
*ENDURA Metallic Papers state-of-the-art image stability is 100 years in typical home display, 200 years in dark storage, and one to five years for commercial display, based on product application including specific light levels and temperature conditions, testing conducted as specified in ANSI Publication IT9.9-1996 and ISO Publication 10977, Stability of Colour
Photographic
Images…Methods for Measuring, including use of illustrative endpoint criteria of 30% dye fade.